Finishing in Style... Bindery Operations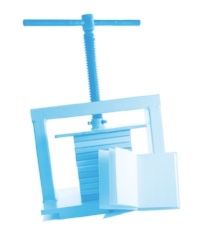 There is one department in our printing company that you don't often hear about… our bindery. This is where we take printed sheets to finish the job. There are often many small operations that need to be completed just before the job is ready to be delivered. Even though they are frequently rather small and seemingly insignificant operations, together they combine to insure that the final product has a very professional appearance.
The bindery in our company is where we create the final product from flat press sheets; products like a folded brochure, a booklet, a pad, a numbered invoice, pages with holes ready for a ring binder, a spiral bound manual, or a ticket with perforations to make a tear-off stub. The bindery is where we trim business cards to final size and trim the edges of booklets to make them even. It's where we apply the glue that makes individual sheets of carbonless paper into a set. It's also here that we package the order and do the final quality control check. So even though we rarely mention the bindery when talking to you about a project, it is a very important part of the printing process.