Picture Perfect Photos for Print and Web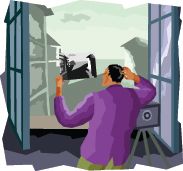 Our world is visual. From the images you see on screens to the things you read every day, photographs play an important role in conveying emotion, illustrating a point, or explaining a concept. Photographs improve our comprehension and add to our enjoyment. Because of this, they are an integral part of printed material and web sites.
As camera technology has advanced, the quality of the photography we see every day has reached new levels. Couple that with the ease of using a digital camera, and we now see businesses and organizations becoming comfortable with handling their photographic image needs without the services of a professional photographer.
Our job is to reproduce those photographs in printed brochures, sell sheets, marketing material, newsletters, direct mail pieces, signs and banners, and even business cards. Since we want the photographs to reproduce in the best possible quality, we're offering some technical tips on the characteristics of digital photo files to use for printing and web applications. These aren't tips on how to take photographs, but rather what to do once the image is captured and you're ready to submit the photo file to us.